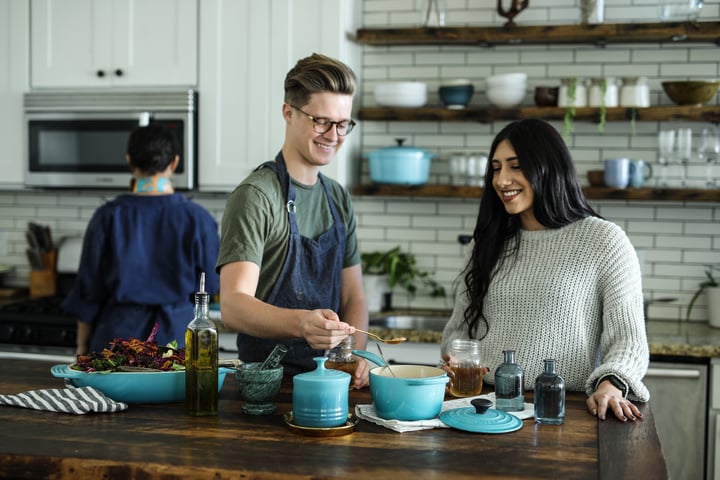 Your partner's family and friends, as well as your own, will impact your relationship in some way and while family and friends are part of a larger system that can provide encouragement to your relationship, that larger system can also be detrimental to your relationship if there is a significant lack of acceptance and support.
Consider your definition of "normal" – How much involvement in your relationship from family and friends is normal? Boundaries must be respected by family and friends, and each partner needs to be on the same page.
With you partner, work through the following discussion points:
How has a life transition (marriage, children, illness, etc.) impacted how you and your partner relate to family and friends?
What boundaries do you currently have in place with regards to family and friends and your relationship with your partner?
How can boundaries be adjusted to allow for more or less influence from others outside the relationship?
Consider your definition of "normal" – How much involvement from family and friends is normal?
How does this change throughout your relationship?
How is your definition of normal similar to your partner's?
How is your definition of normal different than your partners?
If you and your partner ever feel overwhelmed by your results or the ensuing discussion, we encourage you to seek out professional support. Call us.
Consider taking an assessment or working through our Discussion Guide for Couples... that's a great place start!
Tune in for more tips next week.
Do you need help with an issue or problem? Our approach helps to generate deep and productive conversations that couples would not otherwise have about their relationship. These conversations can restore insight and understanding about one another.
#PREPARE/ENRICH is a customised online assessment tool that identifies each couples unique strength and growth areas. Based on their assessment results, a facilitator provides feedback sessions, helping couples to discuss and understand their results while teaching them proven relationship skills.
For more information on PREPARE/ENRICH or to find a facilitator near you, please contact: www.prepare-enrich.com.au or call us on (02) 9520 4049.
The Couple Assessment is only $46 (inc GST) per couple plus the facilitator fee.
Facilitators available in all states across Australia.


#strongerrelationships
#strongcouplesclub