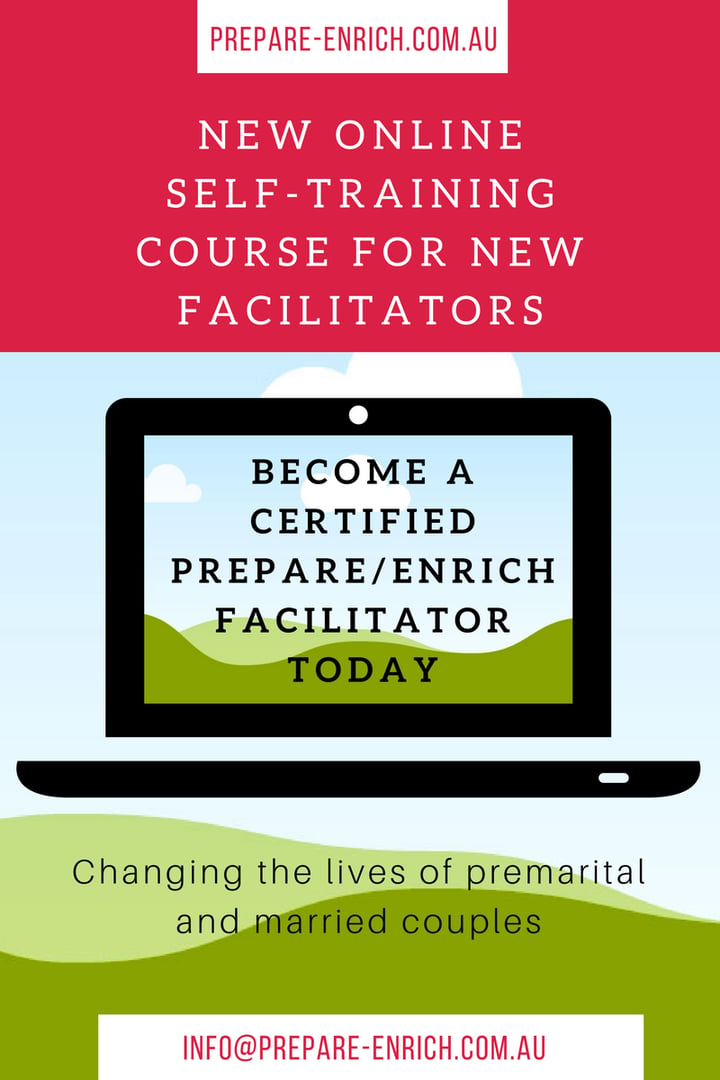 We are thrilled to announce the launch of PREPARE/ENRICH online for new facilitators.
We invite you to join the thousands of facilitators who have learned our proven approach using the digital format, that will transform your work with couples.
PREPARE/ENRICH online self-directed training course for new facilitators
Become a certified PREPARE/ENRICH facilitator. The Online Self Training includes access to the content you need to become proficient in the use of the PREPARE/ENRICH Program. Learn to administer the inventories, interpret reports, and give feedback using skills building exercises.
PREPARE/ENRICH Online Self Training covers 12 comprehensive sections, including a Resource Guide outline (PDF), video instruction, and video clips of PREPARE/ENRICH founder, David Olson, providing feedback to a couple. Each section ends with a 5-item quiz based on the content covered.
With the Online Training, you'll receive:
1 Complimentary Scoring
Resource Guide - Training Outlines
PREPARE/ENRICH Facilitator's Manual
PREPARE/ENRICH Couple's Workbook
Sample Facilitator's Report
Sample Couple's Report
Access to all training videos
After completing the Online training, you will be certified to use the PREPARE/ENRICH Program with both premarital and married couples.
Who may train to administer the inventories?
People working with couples (eg. marriage celebrants, educators, counsellors) who already have formal training as a -
Pastor/priest/minister/rabbi.
Counsellor/Psychologist
Educator
Social Worker
Worker trained in another relevant human resource discipline
and –
Lay people, who also have training in the above areas, nominated by, approved by, and supervised by and accountable to leaders of the institution (eg. clergy, pastors, priests) within which they will work. We are prepared to train such individuals and couples but they need to be selected and nominated with care. Just because they are church members and have participated in a PREPARE/ENRICH program as part of their own preparation for marriage is not a sufficient qualification. It is important to consider their knowledge and skills.
The Online Training is currently available in English only. PREPARE/ENRICH is available in English, Chinese (Simplified), French, German, Korean, Romanian, and Spanish.
Bookings and enquiries:
Cost: $295 per person
Enquiries: info@prepare-enrich.com.au
Please refer to full the terms and conditions including the cancellation policy here: www.prepare-enrich.com.au/terms-conditions
For more information on the use and analysis of Online training or to simply use PREPARE/ENRICH, please contact: www.prepare-enrich.com.au or call today (02) 9520 4049 #prepareenrich #strongerrelationships