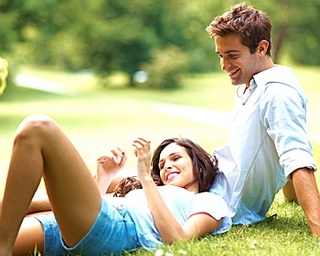 It can be a useful exercise for Dating Couples to assess the health of their current dating relationship, their level of commitment and to consider their future together.
Dating Couples may decide to evaluate the quality of their relationship as they attempt to determine their level of commitment to a future together.
The Couple Checkup and PREPARE/ENRICH do not assume a dating couple will be getting married. Instead, they are designed to help them understand the strengths and growth areas in their dating relationship today.
The Couple Checkup integrates the multiple versions of the previous inventories into one dynamic system automatically tailored to assess the relevant stage and structure of a couple's relationship. Unlike previous assessment tools that assess overall couple functioning across a predefined inventory or set of scales, the Couple Checkup is dynamically generated by the computer system based on the individual characteristics of each couple.
Relationship Stage
Relationship Stage is assessed by asking couples to identify if they are dating, engaged, or married. Each of these relationship stages presents a unique set of challenges and opportunities for couples.
Beyond the normal core scales, dating couples get a Character Traits scale, Finances, Relationship Expectations, and Stress scales revised for dating couples, and the SCOPE Personality section.
Cohabitation Issues, Interfaith/Interchurch, and Cultural/Ethnic Issues, are utilised when relevant for the couple.
Spiritual Beliefs can also be customised for Protestant, Catholic, or Jewish groups.
Couple relationships are quite complex and take on many variations such as dating, engaged, cohabiting, married, stepfamilies, and mature couples. Instead of using a static assessment tool, there are many scale variations in the Couple Checkup couples may need based on their stage and family structure. This ensures maximum relevance for each couple's relationship needs.
Simply click on the Get Started button below relevant to your relationship - it couldn't be easier. Once you have finished the questions you should receive your comprehensive personalised report in about 30 seconds.
The Couple Checkup generates deep and productive conversations that couples would not otherwise have about their relationship. These conversations restore insight and understanding about one another. The Couple Checkup can help to revive a relationship and increase intimacy.
The Couple Checkup is an online couple assessment based on the PREPARE/ENRICH couple inventories. The Checkup assessment and Checkup report are designed to go directly to couples at any stage of their relationship (dating, engaged or married). The online system allows for dynamic customisation of the assessment to each couple based on how the couple answers background questions. The goal is for the Couple Checkup to reach a more diverse group of couples, to empower couples to deal with issues on their own and to emphasize prevention over remediation.
For more information on the use and analysis of the Couple Checkup or to simply use the tool, please contact: www.couplecheckup.com.au or call today (02) 9520 4049 #couplecheckup #relationship