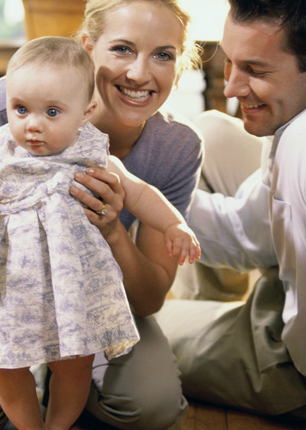 PREPARE/ENRICH provides facilitators with plenty of scope to explore the impact of a child on the couple relationship.
In response to the statement, "Raising children would put an additional strain on our relationship", it is always surprising, but somewhat understandable, that many respondents disagree. Asking couples to reflect on how they think that they, as children, impacted on their parents relationship can often encourage them to think more realistically about this new life stage.
Another good approach for facilitators is to ask couples to consider how the experience of becoming parents has been for their friends or other family members. "What have they said?", "What have you noticed?", "How do they appear to be managing?", "What do they say about their sexual relationship?" etc.
While the couple discuss their observations it is an opportunity for the facilitator to encourage the couple to identify the strengths and skills that will support their own transition to parenthood as well as to name potentially negative experiences.
As with other key areas of PREPARE/ENRICH it is always useful to go back to the couples' experience of being parented. The statement with direct relevance here is, "My partner's family raised children differently than my family". Asking couples to identify the similarities and differences between their respective upbringings provides an excellent springboard into them deciding how they want to parent – e.g., what they see as acceptable discipline and how they would negotiate different views.
Of course all this discussion is being conducted without having had the experience of becoming a parent – so nothing can be set in concrete. It is however a great opportunity to raise the issues for further thought and to examine the assumptions we often make about this transition and about one another.
It is also important to be on the lookout for divergent views between the couple about having children. PREPARE/ENRICH provides facilitators with plenty of scope to explore the impact of a child on the couple relationship. PREPARE/ENRICH couples can sometimes expect a partner to change with marriage and 'come along' with the decision to have a child even if they seemed different while co-habiting.
In summary, the statements in PREPARE/ENRICH cover most of the key areas including, seeking a difference of opinion about number of children - difficult when one party does not want children) and the timing (very interesting in view of the older couples we are seeing in our couple work). Participant responses always make for an interesting session.
There is however an assumption that couples will succeed at becoming parents. There is not a question that relates to the impact on the relationship of not being able to have a baby – this topic is a challenge for the facilitator and one that requires sensitivity.
Getting Started:
For Parents:
To get started with the Parenting Version of PREPARE/ENRICH, you will need to locate a qualified facilitator of relationship and parental education. PREPARE/ENRICH Certified facilitators can be located in your area by contacting PREPARE/ENRICH or by using the search facility on the website: For Couples
For Facilitators:
To get started with the Parenting Version of PREPARE/ENRICH, you will need to become PREPARE/ENRICH Certified by attending a Workshop.
Once trained, Contact Us to activate the Parenting Version in your facilitator account.
The cost to activate the Parenting Version is $40
The PREPARE/ENRICH Parenting Version is Now Available: Register here >
PREPARE/ENRICH is a customised online assessment tool that identifies each couples unique strength and growth areas. Based on their assessment results, a facilitator provides feedback sessions, helping couples to discuss and understand their results while teaching them proven relationship skills.
For more information on the Parenting Version or to simply set up a couple on the tool, please contact: www.prepare-enrich.com.au or call today (02) 9520 4049 #prepareenrich
This article is written by Jenny Cleal (one of our Trainers in Victoria and Co-ordinator of the LifeWorks Marriage Relationship Program) and was first published in Threshold March 2006. Threshold is a magazine about marriage education and is available to all marriage and relationship educators, celebrants and counsellors in Australia and New Zealand.
This article is reproduced here with permission of the author and editor.