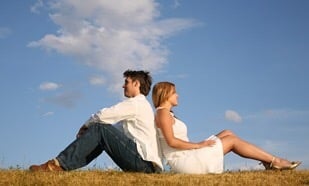 These comments about the place of self-disclosure in intimate relationships are worth contemplating:
Failure of self-disclosure leads to misunderstanding and threatens intimacy.
Failure to reciprocate self-disclosures becomes a source of frustration and disappointment.
These statements are supported by a detailed study of couple interviews and daily records of couples' communication and interactions (Vetere and colleagues, 2005). One participant completed the catchphrase "I misunderstand my partner when…" with "…he goes quiet." In this example, failure to self-disclose leads to lower levels of intimacy and a reduction in partner awareness.
The authors comment that:
The maintenance of 'partner awareness' rests on an almost constant background of chatter and stroking where both reveal and acknowledge each others' internal state: "I really need to tell my partner…" is completed with"…what happens during my day and for him to tell me about his, it feels right."
An act of self disclosure carries with it an expectation that it be returned in-kind, and a failure to reciprocate is felt keenly as a breakdown in the maintenance of intimacy.
These issues are worth bearing in mind as you work with the Communication category in the PREPARE/ENRICH inventories.
Reference: Frank Vetere, Martin R. Gibbs, Jesper Kjeldskov, Steve Howard, Florian 'Floyd' Mueller, Sonja Pedell, Karen Mecoles, Marcus Bunyan.Mediating Intimacy: Designing Technologies to Support Strong-Tie Relationships, CHI, 2005, Portland, Oregon, USA.
#PREPARE/ENRICH is a customised online assessment tool that identifies each couples unique strength and growth areas. Based on their assessment results, a facilitator provides feedback sessions, helping couples to discuss and understand their results while teaching them proven relationship skills.
For more information on PREPARE/ENRICH or support with a couple or to simply set up a couple on the tool, please contact: www.prepare-enrich.com.au or call today (02) 9520 4049 #prepareenrich