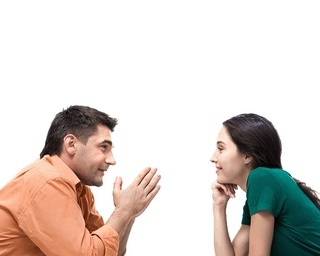 A major finding of recent research into the effects of cohabitation on subsequent marital outcomes is the potential detrimental consequences of 'sliding' in relationships rather than 'deciding' – that is letting transition events 'just happen' rather than making a considered, unambiguous decision.
A discussion for cohabiting couples and for facilitators working with couples is about what the couple agree a healthy marriage relationship should be. A discussion about prioritising the relationship, the meaning of dedication to your partner and the importance of taking other options off the table, can be valuable.
Working with Conflicted and Devitalised Couples
Negative family experience of marriage and vulnerability to domestic violence issues are canvassed by way of cross reference to questions related to family of origin in the Inventory. Premarital cohabitation is usually associated with lower levels of marital satisfaction and greater likelihood of marital domestic aggression. When providing feedback with any couple, the goal of the facilitator working with a cohabiting couple is to bring a positive approach to the couple's desire to build a strong marriage.
Goals in Working with Conflicted and Devitalised Couples:
Instill couple with hope that their relationship can improve. (You may choose to tell them that in a study of unhappy marriages, 2/3 of couples who stayed married reported they were happy five years later five years). Relationships are ever-evolving and all will experience "ups" and "downs".
Identify and build their strengths as a couple
Help couples understand that they share responsibility for the state of their relationship
Help each partner learn to appreciate the impact of their behavior on the other
Develop their communication and conflict resolution skill
Using PREPARE/ENRICH with Conflicted and Devitalised Couples:
Discuss and praise a couple's commitment to their relationship and willingness to work to make it better
Identify and help them build their strengths. If the couple does not have any "category" strengths, look for specific Agreement items within categories.
Begin by assessing, and if necessary, bolstering the couple's communication by teaching assertiveness and active listening.
Develop conflict resolution skills using the Ten Steps for Resolving Couple Conflict. Use the Ten Step Model several times with them, beginning with less complex issues, and then moving toward more complex issues.
Augment your sessions by assigning "homework" from the Couple's Workbook and/or chapters in The Couple Checkup book.
Key Concerns:
As these couples are at greater risk for abuse and divorce, share your concerns with them and gain their commitment to work on the relationship. This will often require 6-10 more intensive counseling sessions.
Always consider your limitations in terms of time, experience, and professional expertise when working with distressed couples.
Develop a referral network of collaborative partners to assist you in your work and know when to refer couples to a marital therapist with more expertise.
Partner Dominance:
Partner dominance assesses how much a person feels his/her partner tries to control them and dominate his/her life.
Partner dominance is problematic when a person does not want their partner to be in such a controlling position. A high score on Partner Dominance should trigger a discussion with the person scoring high.
There is considerable evidence in U.S. samples demonstrating couples who have an equalitarian relationship tend to have a more successful marriage (Olson and DeFrain, 1997). There are, however, exceptions. These include couples in which both partners genuinely want more traditional relationship roles, often based on their religious beliefs or their cultural heritage. The traditional relationship is one in which the male is the leader of the family.
The Partner Dominance area should be reviewed in combination with the Role Relationship area. Engaged couples who want and expect to have a more equalitarian relationship in terms of Relationship Roles will struggle if one partner is overly dominant. Married couples may also struggle with their Roles and Responsibilities when one partner is dominant and the other feels the imbalance.
#PREPARE/ENRICH is a customised online assessment tool that identifies each couples unique strength and growth areas. Based on their assessment results, a facilitator provides feedback sessions, helping couples to discuss and understand their results while teaching them proven relationship skills.
For more information on PREPARE/ENRICH or support with a couple or to simply set up a couple on the tool, please contact: www.prepare-enrich.com.au or call today (02) 9520 4049 #prepareenrich