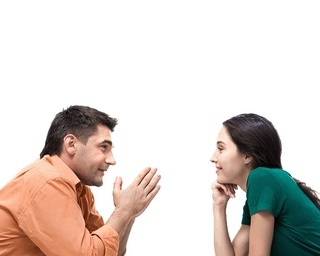 In comparing dating couples living together versus apart, the differences were dramatic. Based on 2010 US study, only 21% of the dating couples who are living together were 'Vitalised', compared with 51% of the dating couples who were not living together. Even more telling, 48% of the cohabiting daters were in the 'Conflicted' range, compared with only 16% of those who were not living together.
Is cohabiting a good way to prepare for marriage?
The social science evidence suggests that living together is not a good way to prepare for marriage or to avoid divorce however Australian Bureau of Statistics information indicates that in 2010 - 79% couples cohabited before marriage. In fact, virtually all the major studies have shown a higher divorce rate among couples that cohabited before marriage than those who did not. No positive contribution of cohabitation to a successful marriage has been found to date.
It is important to note that cohabiting that is within 3-6 months before marriage is different from cohabiting as an alternative to marriage. If a couple cohabits a few months before the wedding and if each partner has had no prior cohabitation experience and no children, then the adverse effects are not strongly supported in research (Popenoe & Whitehead, 1999).
What is a good way to prepare for marriage?
The PREPARE/ENRICH program is one effective way to build a stronger and happier marriage. An Outcome Study of PREPARE/ENRICH (Knutson & Olson 2003) demonstrated the value for couples in taking the PREPARE/ENRICH Inventory and having 3-5 feedback sessions using the Six Couple Exercises. Couples significantly improved their couple satisfaction and their relationship type (the PREPARE/ENRICH Program increased Vitalised couples by 52% and decreased Conflicted couples by 83%).
Using PREPARE/ENRICH data, engaged cohabiting couples had about the same percentage of Vitalised couples (51%) compared to dating non-cohabiting couples (51%) or engaged non-cohabiting couples (60%). The most problematic group was dating cohabiting (not engaged) couples where only 21% were Vitalised and 48% were Conflicted. Clearly, cohabiting couples have common traits that distinguish them from premarital couples that are not living together.
These issues represent important areas of work for couples cohabiting before marriage. The PREPARE/ENRICH inventory is intended to provide a suitable resource for marriage preparation for cohabiting couples. The aim is to equip PREPARE/ENRICH administrators as effectively as possible.
The PREPARE/ENRICH inventory is customised for couples already living together (with or without children), particularly those who are intending to marry. The Marriage Expectations category is intended to assist couples explore the impact that living together has had upon their relationship and to provide a springboard for considering the further changes and effects that might emerge when they marry. Other categories tap into issues that may have arisen during the experience of cohabitation.
Some of the features include:
Items are designed to help couples understand and focus on issues related to cohabiting.
Background questions ask about family and other relative's feelings about their cohabiting.
Cohabitation Issues - 10 items explored.
Exercises you can use to ensure that you have covered all the relevant issues.
REFERENCES: The following are some excellent resources about cohabitation:
Bahmann, J.G., Johnsont, L.D., & O'Malley, P.M. (2001). Monitoring the Future: Questionnaire responses from the nation's high school seniors, 2000. Ann Arbor, MI: Institute for Social Research, Univ of Michigan.
Center for Marriage and Family. (December, 2000). Time, sex and money. The first five years of marriage. Creighton University, Omaha, NE.
Kennedy, S. & Bumpass, L. (2007). Cohabitation and children's living arrangements: New estimates from the United States. Unpublished manuscript. Madison, WI: Center for Demography, University of Wisconsin.
Larson, J. (2000). The verdict on cohabitation vs. marriage. Marriage & Families, 7-12.
Popenoe, D. & Whitehead, B. (1999). Should we live together? What young adults need to know about cohabitation before marriage. The National Marriage Project, New Brunswick, NJ.
Popenoe, D. & Whitehead, B. (2000). The state of our unions 2000: The social health of marriage in America. The National Marriage Project, New Brunswick, NJ.
Waite, L. & Gallagher, M. (2000). The case for marriage: Why married people are happier, healthier and better off financially. New York: Doubleday.
Tune in next week for more interesting ideas and tips.
Source: Cohabitation and Relationship Quality in Dating and Engaged Couples - 2010, Peter J. Larson & David H. Olson
#PREPARE/ENRICH is a customised online assessment tool that identifies each couples unique strength and growth areas. Based on their assessment results, a facilitator provides feedback sessions, helping couples to discuss and understand their results while teaching them proven relationship skills.
For more information on PREPARE/ENRICH or to simply set up a couple on the tool, please contact: www.prepare-enrich.com.au or call today (02) 9520 4049 #prepareenrich