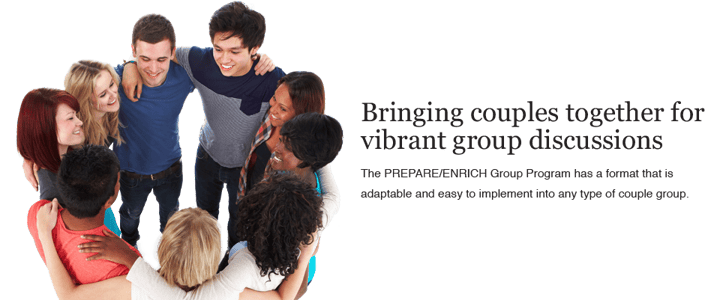 The PREPARE/ENRICH Group Program lends itself well to a retreat format as it allows for a combination of teaching, small groups, and break-out time for couples. The Group Program outlines ten sessions but you may use only the sessions that work for the time you have or items that have been raised by the group. The first session is written as an introductory session and the last as a wrap-up. All other sessions need not be delivered in consecutive order.
The Group Edition of PREPARE/ENRICH is designed to bring couples of various relationship stages together in one group can lead to a dynamic experience for all. For example, engaged couples may benefit from the realism and interpersonal learning that happens when they witness how other couples cope with life's stressors, honour their commitment, grow, heal and express themselves. Engaged and dating couples reenergise those around them with their hope and optimism.
Group edition reports are now available for all completed couples. To upgrade your account to include the PREPARE/ENRICH Group Program materials and third report for couples, please email us at info@prepare-enrich.com.au. The one-time fee of $40 upgrades your PREPARE/ENRICH account, giving you online access to the Instructor's Guide (PDF), and the new Couple's Report - Group Edition, and the Instructor's PowerPoint. When offering PREPARE/ENRICH in a group format, you will use these resources to encourage discussion and effectively structure the feedback for a group setting.
#PREPARE/ENRICH is a customised online assessment tool that identifies each couples unique strength and growth areas. Based on their assessment results, a facilitator provides feedback sessions, helping couples to discuss and understand their results while teaching them proven relationship skills.
For more information on PREPARE/ENRICH or to simply set up a couple on the tool, please contact: www.prepare-enrich.com.au or call today (02) 9520 4049 #prepareenrich