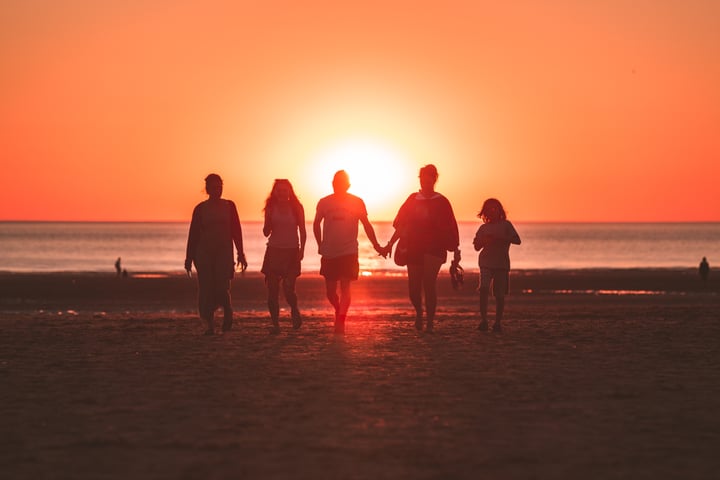 With Valentines day just around the corner happening on the 14th of February, kids can sometimes pose a problem when planning out the perfect date. We at PREPARE/ENRICH Australia thought it would be great to come up with 14 date ideas to help parents and married couples! Some ideas have the kids involved, some do not, so pick and choose or possibly use our ideas as inspiration for your own special date.
1. Roll some dice with a board game night
Nothing says a family night in like a board game session with the kids. Pull out your favorite board game, dress up in some comfortable pajamas, bring out the snacks. This can give the perfect chance to connect with not only your kids but your partner as well. Try to find a board game which encourages co-operation and friendly communication!
2. Awaken your taste-buds with a food or wine tasting
You can plan out this night in a number of ways depending on the type of tasting and where you want to do it. You could involve your kids and have a wonderful time doing chocolate tasting. If you just want it to be with your partner, you can taste wine from your own collection or travel out to a restaurant to have a professional take you through it. I personally love a double tasting night with both cheese and wines!
3. Release the tension with a couples massage
Stress from work, family, and everything else life throws at you can be too much. One way to perfectly relieve this at least from your body is with a massage, and what perfect time to do it than during Valentines day! Full body, half body, cupping, go for whatever you are comfortable with because it is always worth it.
4. Spread the blanket and have a family picnic
Sometimes a simple day out on a grassy field with the kids is all you need. Bring along some of your favorite snacks and delights as well as a ball to serve as a distraction for the children as they go play. All the while you can spend some much needed intimate time with your partner. It could also potentially be a great idea to perhaps do the picnic at night and watch the stars!
5. Bring the nostalgia by recreating your first date
Remember vividly your first date? Why not recreate the date today? It can serve as a bit of fun and an easy avenue to walk down nostalgia lane to see how things have changed over the years. If your first date did not exactly go to plan or not all that memorable, simply do the first amazing date you do remember.
6. See something wonderful with a movie night
Commonly known in today's digital age as "Netflix and Chill", find a couple of your favorite movies or films you have been planning to see and press play. This can serve as a great way to finally unwind and de-stress with your partner. Don't forget to bring or cook up movie snacks like buttered popcorn and chocolates! I personally suggest to pair the movie night with a romantic dinner (mentioned below in no.14).
7. Let your voice shine with kareoke
Belt out your voice for the world to hear while you sing along to your favorite tunes and choruses. Some people might find it a little nerve-wracking putting your voice out there, especially those without the natural talent to sing. However, in an encouraging environment, and often with everyone else singing along, the nerves will quickly fade away. Borrow someones, machine, rent out a space at a kareoke bar, or simply sing along to a YouTube music video, there are so many options to make this night special!
8. Take that risk and join a dancing class
What better way to promote connection with your partner than with a dancing class (or any class for that matter). Get spicy with salsa, stay classy with ballroom, or hit that note with jazz/tap. There are a plethora of dancing classes out there, and often the first class is at a major discount and sometimes free, so you can potentially just drop in for one night of fun!
9. Unwind with a night at the spa
Similar to the couples massage, a spa night can serve as an easy and great way to relax after the continued build-up of stress. One special way to do the spa night is with the FISH FOOT SPA which actual fish clean up your feet and leave you very relaxed.
10. Put on your walking shoes and go for a hike
Hiking is the perfect chance for you and your partner to spend intimate time together as all you have nature and the path ahead. Walk down to Wentworth Falls in the Blue Mountains, or climb the shortest mountain in the world with Mt Kosciuszko. Alternatively, this is a great opportunity for a family day out and bring your kids along as while experiencing the splendor of nature.
11. Hit a strike and go bowling
Bowling can serve as a great night out with the family with kids (except small babies for obvious reasons) really enjoying hitting strikes. Nothing like friendly competition between members of the family to bring out the fun in bowling.
12. Score a hole in one at Mini-golf
A very family friendly time with the kids trying to putt (and often failing) to get the ball into the hole. While they fumble around, this is a good opportunity for you and your partner to have some light competition and actually play the course. Beware though, kids can occasionally become rowdy and push ahead into holes which are being used by other families, so be sure to keep watch!
13. Get some fresh produce with Fruit Picking
Another very family friendly day that lets you have a exceedingly relaxing day picking fruit while the kids can go around and play. Moreover, who doesn't like grabbing some fresh fruit and produce for home to last for the next week and onward.
14. Home cooking and a romantic dinner
Lastly, what perfect way to end the list with a simple, yet potentially very romantic home-cooked dinner. Light up the scented candles for the mood, play some slow-tempo music, and plan out the perfect multi-course meal for your partner. You could potentially couple this with a number of other items on the list!
Have any other date ideas for Valentines day? Leave a comment down below!